Wheelchair Lifts
Brands We Represent
Inclinator Company of America
Inclinator VL
For indoor/outdoor use. When you need a steel wheelchair lift with a travel distance up to 12', the VL is your best value. Using a monorail guiding system and ACME screw lifting mechanism, VL can take the punishment.
Butler Mobility Products
Butler's vertical wheelchair lift is engineered for easy and cost-effective installation with minimal obtrusion.
Savaria
Savaria Multilift VPL
Gain convenient, easy and reliable access with the Savaria Multilift, vertical platform lift.  It easily accommodates a wheelchair with a capacity of up to 750lbs.
Savaria V-1504 Vertical Platform Lift
This lift is built to carry a wheelchair and passenger safely up and down one or more levels.  Suitable for public and commercial buildings, as well as private homes.
Savaria Inclined Platform Lifts
The Savaria Delta and Savaria Omega are two lifts that provide barrier-free access and does not involve major construction.  The Delta is designed for use with a single level of straight stairs, while the Omega handles multiple levels, turning stairs, curved stairs or stairs with intermediate landings.  Suitable for public and commercial buildings, as well as private homes.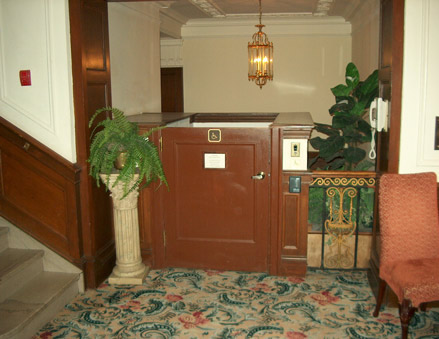 Download Drawings
Our Guarantee
Elevator Ready Inc. guarantees each product that we sell and install. We guarantee our labor for one year from completion. The vendors we represent have a manufacturer's warranty on the equipment. Some manufacturer's warranty their equipment for 2 years, others for up to 5 years. Some products qualify for extended manufacturers warranties, provided you purchase a maintenance contract.